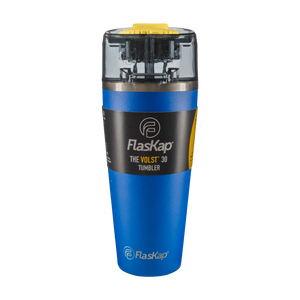 The Game Day System - Madic 9 + Volst 30 has a 5.0 star rating based on 5 ratings
Great product
Awesome product and works well with all tumblers
Madic 9
Love my Flaskap! The Madic 9 holds just enough alcohol to get me through half a day on the river.
Works as described. Holds a lot of fluids
Product works great for the boat or a family outing and tailgating.
Awesme Product
Worked Great on the Golf Course for the day! I'm sure its going to com in handy in many other areas.
Reviewed by Sooner Football Fans P.
Verified Buyer
Great for the tailgate !!
The gameday drinking system is amazing !! Perfect for your tailgate... and .... GOLF !!!
The lovely Teresa uses hers for her gameday "Shirley Temples" ... Sprite and ice in the Tumbler and grenadene in the flaskap ... she loves it
SAME PREMIUM DRINKING SYSTEM - NOW IN YOUR TEAM'S COLORS.
This

 

system is complete with two lids: a leakproof snapback lid for your everyday coffee, and the Madic™ Liquor Kap for cocktails.
Pair the MADIC™ 9 Liquor Kap with the VOLST™ 30 Tumbler for unprecedented efficiency and drinks made just how you like them. Wherever your outdoor adventure takes you, our premium drinkware will be there.
A replacement for your tumbler lid, this reserve tank fits nearly all 30oz stainless steel tumblers on the market. Simply untwist the button to fill the reservoir, then press the Fun Button to dispense ½ ounce of your favorite liquor into your tumbler below, and enjoy the perfect drink on your next outdoor adventure. Whether you're hiking, camping, or hitting the beach, you'll enjoy our leakproof seal until you're ready to mix your next cocktail. 
MADE IN THE USA: Designed in Bozeman, Montana and made in the USA.
BPA-FREE: The MADIC™ 9 Liquor Kap features the highest quality of food-grade components.
Meet the master of all tumblers. Kitchen-grade 18/8 stainless steel and double-wall vacuum insulation keep your ice solid and your drink pure. Perfect for people on the move, simply attach our signature alcohol vessel, and transform your water into liquor at the press of a button. Under the stars, in the hot sun, or on the golf course—wherever your adventure takes you, we've got you covered (our system is even cup holder-friendly). Because sipping mixed drinks in nature has never been so simple.
DOUBLE-WALL VACUUM INSULATION: The VOLST™ 30 Tumbler will keep your cocktail cold (or coffee hot) until the last sip.
CUP HOLDER-FRIENDLY: Like any good tumbler should be.
First Time Customer? Join our mailing list at the bottom of the page for 10% off your order.