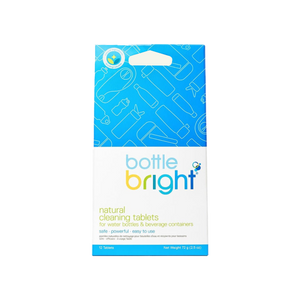 The Bottle Bright Natural Cleaning Tablets has a 5.0 star rating based on 3 ratings
Reviewed by K Victoria B.
Verified Buyer
Bright Natural Cleaning Tablets
Bottle bright
Used on carafe I use every morning for coffee and carafe looked sparkling and coffee much better out of it.
Cleaning tablets
Outstanding! Easy to clean and effective!
Bottle Bright is the natural, biodegradable, grime-fighting cleaning tablet that takes your toughest-to-clean bottles to task. Easy-to-use and ultra-efficient, Bottle Bright tablets dissolve in water creating tiny, effervescent bubbles that power through stubborn stains and odors cleaning your favorite bottles and containers in only a matter of minutes with no scrubbing, rubbing, or sponging required.

- 12 Tablets (Individually Wrapped) 
- 72 g/ 2.5oz